#import <CC3PFXResource.h>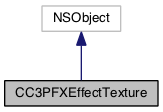 [legend]
CC3PFXEffectTexture is a simple object that links a texture with a particular texture unit.
The name of the texture as declared in the PFX file.
The texture being linked to a particular texture unit.
- (NSUInteger) textureUnitIndex

read

write

nonatomic

assign
The index of the texture unit to which the texture should be applied.
---
The documentation for this class was generated from the following file:

© 2010 - 2014 The Brenwill Workshop Ltd.